Tatjana Mead Chamis
Viola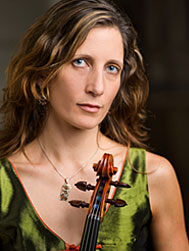 Violist Tatjana Mead Chamis has gained recognition through a wide variety of performances, from orchestral, solo, and chamber music to studio recording, as well as advocating for and experimenting with new music.
Associate Principal Viola of the Pittsburgh Symphony Orchestra, Mead Chamis joined the orchestra in 1993, under the directorship of Lorin Maazel, while still a student of the Curtis Institute of Music at age 22. She has since been featured on numerous performances as soloist with the Pittsburgh Symphony and the Pittsburgh Symphony Chamber Orchestra, most often premiering or introducing pieces not yet heard in Pittsburgh, such as the Lionel Tertis transcription of Elgar's Cello Concerto.
Mead Chamis performs chamber music and solo recitals in the U.S. and internationally, including various appearances at the Caramoor International Music Festival, Vail's Bravo Festival, the Teton Music Festival, the Tanglewood Music Center, the Los Angeles Philharmonic Institute, the Curtis Institute of Music, the University of Utah, the Utah Symphony, and the Porto Alegre and Sao Paulo Symphony orchestras in Brazil.
As an advocate of music for all ages and audiences, Mead Chamis has lectured and performed in various venues. Most memorable and rewarding have been the unusual and improvised: solo Bach on a street corner in Barcelona while on tour with the Pittsburgh Symphony, rocking Mendelssohn with Joshua Bell at the Hard Rock Cafe, swinging with a Brazilian jazz trio, or enthralling preschoolers at their first encounter with a stringed instrument.
American born, Mead Chamis began her musical studies on the violin at age 7 while living in Germany. It was in Salt Lake City, Utah, that she switched to the viola while studying with Mikhail Boguslavsky, co-founder of the Moscow Chamber Orchestra. She continued her studies at the Curtis Institute of Music with Joseph dePasquale, former principal viola of the Philadelphia Orchestra, graduating in 1994.
In 2012, Mead Chamis spent a sabbatical year in Florianopolis, Brazil, with her daughter, twin boys, and husband, Brazilian composer/conductor Flavio Chamis. During that year she played several solo and chamber music recitals, taking the opportunity to research and collect a substantial amount of viola works by Brazilian composers, which are now part of her present and future projects for U.S. audiences.