David Hardy
Cello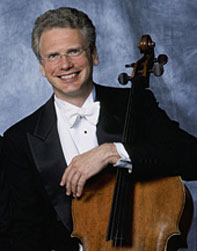 David Hardy, Principal Cello of the National Symphony Orchestra, achieved international recognition in 1982 as the top American prize winner at the Seventh International Tchaikovsky Cello Competition in Moscow. Mr. Hardy won a special prize for the best performance of the Suite for Solo Cello by Victoria Yagling, commissioned for the competition.
A native of Baltimore, Maryland, David Hardy began his cello studies there at the age of eight. He was 16 when he made his debut as soloist with the Baltimore Symphony Orchestra. When he was 21 years old, Mr. Hardy won the certificate in the prestigious Geneva International Cello Competition. The next year, he was graduated from the Peabody Conservatory of Music, where he studied with Laurence Lesser, Stephen Kates and Berl Senofsky. In 1981, he was appointed to the National Symphony Orchestra as Associate Principal Cello by its then Music Director, Mstislav Rostropovich. In 1994, Mr. Hardy was named Principal Cello of the NSO by Music Director Leonard Slatkin.
Mr. Hardy made his National Symphony Orchestra solo debut in 1986, with Mstislav Rostropovich conducting. A regular soloist with the NSO, Mr. Hardy gave the 2004 world premiere of the Stephen Jaffe Concerto for Cello and Orchestra, commissioned by the Hechinger Foundation, with Leonard Slatkin conducting. Mr. Hardy gave the 2007 European premiere of the Jaffe concerto in Slovenia. Bridge Records released the first recording of the concerto in 2008, with Mr. Hardy and the Odense Symphony of Denmark.
The National Symphony Orchestra's recording of Symphony No. 1 by John Corigliano, featuring Mr. Hardy's solo cello performance, won the 1996 Grammy Award for "Best Classical Album."
David Hardy has performed chamber music with NSO Principal Keyboard Lambert Orkis since 1983. He is a founding member of the Kennedy Center Chamber Players and has appeared with this ensemble before enthusiastic audiences in the Kennedy Center's Terrace Theater since 2003, and on an Atlantic Ocean crossing aboard the Queen Mary 2 this past September. He plays on two recordings by this ensemble that have been released on the Dorian label, including The Beauty of Two [duos for cello and piano by Grieg and Martinů performed with Mr. Orkis], and An Emotional Journey, Clarinet Works of Johannes Brahms, joining Principal Clarinet Loren Kitt and Mr. Orkis for the Trio in a minor, Op. 114.
Mr. Hardy's recent release, Beethoven Past & Present, on Dorian Recordings and in collaboration with Lambert Orkis, contains two complete performances of Beethoven's eight works for piano and cello performed on both modern and period instruments.
Mr. Hardy's many chamber music performances include regular appearances at the Strings Music Festival in Steamboat Springs, Colorado. He is a founding member of the Opus 3 Trio, with violinist Charles Wetherbee and pianist Lisa Emenheiser. The Opus 3 Trio has performed to critical acclaim across the country and has commissioned, premiered and recorded many new works. Additionally, Mr. Hardy was cellist of the 20th Century Consort in Washington, DC, where he premiered works by Stephen Albert, Nicholas Maw, and Joseph Schwantner. In 2008, for a Kennedy Center Chamber Players concert, he and Mr. Orkis premiered Sonata for Cello and Piano written for them by Stephen Jaffe.
Mr. Hardy's playing can be heard on recordings under the Dorian/Sono Luminus, Bridge, Melodiya, Educo, RCA, London, Centaur and Delos labels.
In addition to his performing schedule, Mr. Hardy is Professor of Cello at the Peabody Conservatory of Music in Baltimore, Maryland.